556th Strategic Missile Squadron
SM-62 Snark IRBM Squadron, Presque Isle AFB, Presque Isle, Maine 1957-1959
SM-65 Atlas F ICBM Squadron, Plattsburgh AFB, Plattsburgh, New York 1961-1965
In Memory
Robert Vance Bush, Sr.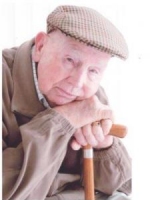 Mar 26, 1925 - Nov 22, 2015
Swansboro - Robert Vance Bush, Sr., 90, passed away at his home Sunday, November 22, 2015. Robert was born, March 26, 1925, son of the late, William H. and Ethel Williams Bush, in Mecklinburg County, NC. A funeral service will be held at 10:30 AM Wednesday, November 25, 2015, at First Baptist Church of Swansboro, with Dr. Larry Harper officiating. Burial with Military Honors will follow at 12:00 PM at Coastal Carolina State Veterans Cemetery. The family will receive friends one hour prior to the service at the church. Mr. Bush proudly served his Country with 28 years of voluntary military service that included WW2, Korea, Vietnam, and the cold war eras. He joined the US Marine Corps in 1943, at Charlotte, NC, as a private and retired from the US Air Force in 1969 as a Chief Warrant Officer 4. He served with the US Marines Air Units in the Pacific Theater of Operations. He was a charter member of the North Carolina Air National Guard when it was organized in Charlotte, NC, and was employed as a full time aircraft technician. He became a member of the regular US Air Force when the Air National Guard was activated for the Korean War, after the end of the Korean conflict, he became a member of the Air Force early Missile program. He participated in the operational testing of several missile weapons systems, receiving letters of commendation from the Strategic Air Command and the Air Force Commendation Medal. At the time of retirement he had attained a Master Missileman rating and was a member of the Commanding General of the mighty Eighth Air Forces Airborne Command Post and Battle Staff. Robert joined Swansboro First Baptist Church in 1990. He served the church as an active Deacon, Sunday School teacher, and a member and Chairman of Social service Committees. He was a member of the Joy club and a chairman of the Activities Committee for and a representative to the New River Baptist Association. Robert served on the Board of Directors Intrim Mission Director and full time Director of the Discipleship of a Rescue Mission in a Major Northeastern city. He was active in the Southern Baptist Home Mission Boards work in establishing new churches in the New England area, and was a member of the Executive Committee for the Massachusetts Baptist Association which was the forerunner of the New England Baptist Convention. Robert is survived by his two daughters, Pamela Lynn Bush Rivest (Richard) of Swansboro, and Sharon Lee Bush Goodhart (John Richard) of Pray, MT; five grandchildren and nine great grandchildren. He was preceded in death by his wife, Julia Lee Whitly Bush, son Robert V. Bush, Jr., daughter-in-law, Pamela Jane Notaro Bush and four brothers, Horace, Oscar, R.E., and Eddie Bush. In lieu of flowers memorials may be made to the Swansboro First Baptist Church Building Fund, 614 W. Corbett Ave., Swansboro, NC 28584.